Pain located in the neck is a common medical condition. Neck pain can come from a number of disorders and diseases and can involve any of the tissues in the neck.
Examples of common conditions causing neck pain are degenerative disc disease, neck strain, osteoarthritis, cervical spondylosis, spinal stenosis, poor posture, neck injury such as in whiplash, a herniated disc, or a pinched nerve (cervical radiculopathy).
Common infections, such as virus infection of the throat, leading to lymph node (gland) swelling and neck pain.
Rare infections, such as tuberculosis of the neck, infection of the spine bones in the neck (osteomyelitis and septic discitis), and meningitis (often accompanied by neck stiffness).
Conditions directly affecting the muscles of the neck, such as fibromyalgia and polymyalgia rheumatica as well as from uncomfortable positioning of the neck while sleeping with the head on a pillow.
Neck pain can feel like any of the following
Stiff neck that makes turning the head difficult
Sharp or stabbing pain in one spot
Soreness or tenderness in a general area
Pain that radiates down into the shoulders, arms, or fingers; or radiates up into the head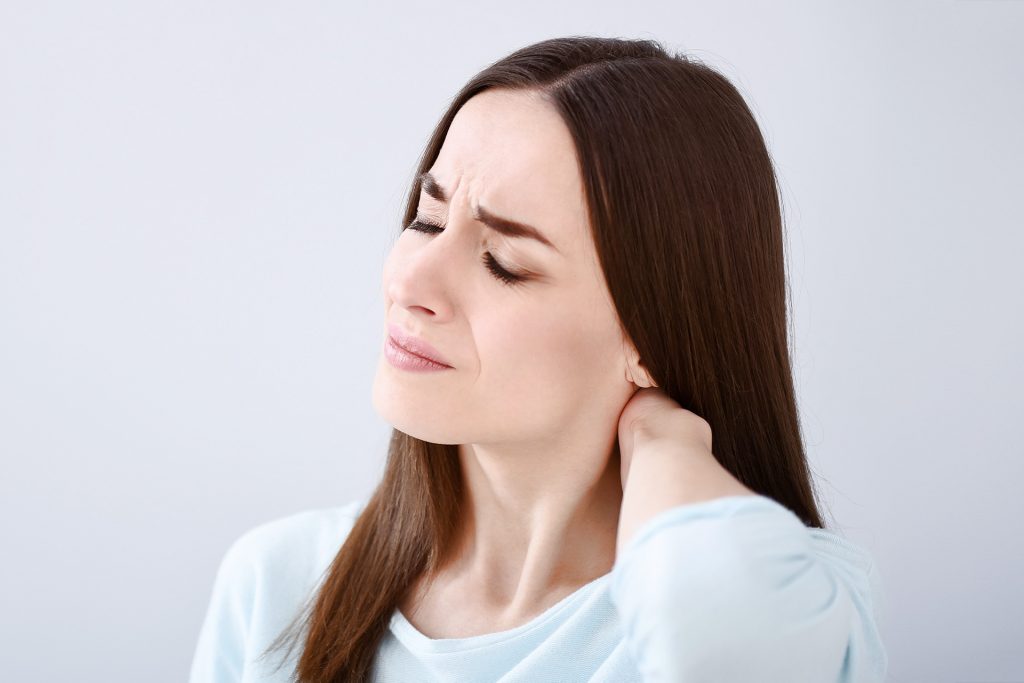 In some cases, other symptoms associated, such as
Tingling, numbness, or weakness that radiates into the shoulder, arms, or fingers
Trouble with gripping or lifting objects
Problems with walking, balance, or coordination
Loss of bladder or bowel control