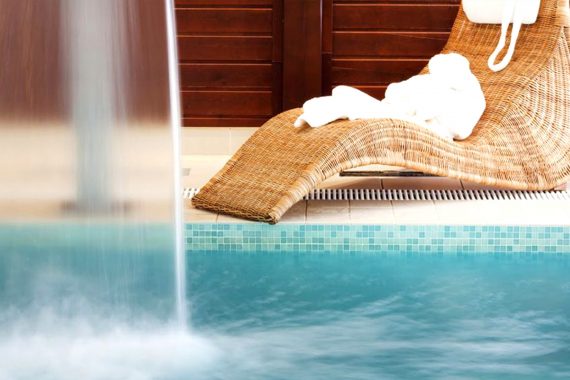 Thalassotherapy gets its name from the Greek word "thalassa," meaning sea or ocean. The therapy involves the use of seawater, spa therapy, and the salty sea climate to improve  overall health and well-being. The practice has been used in Europe for centuries, dating back to the Roman Empire when soldiers used hot seawater baths to recuperate after battles. The practicehas grown in popularity since then and can now be found along most European sea lines. Thalassotherapy can take many forms, including seawater baths, pools, exercise within heated pools, sea products, and climate therapy.
Benefits 
"Seawater and thalassotherapy are general body stimulants. They act by increasing the hematopoietic (blood cell production) functions, improving response capacity, and acting as a general tonic. They can also boost the immune system."
Other benefits include:
Stimulation of endocrine functions, including thyroid, adrenal, parathyroid, and sexual glands
Improvement of blood circulation
Increased sweating
Increase in red and white blood cells
Smoother, unobstructed breathing
Circulation
Research has found that water therapy can have various physiological effects on the human body. These include increasing blood circulation, which helps to relieve muscle spasms and replenish the body with oxygen and nutrients. In addition, algae sometimes used in thalassotherapy have been shown to promote blood circulation when applied topically through cosmetics.
Joint Pain
Thalasso and Thalasso treatments have long aimed to ease joint pain and increase motion. Furthermore, rehabilitative and bathing treatment can significantly decrease osteoarthrosis (noninflammatory joint disease) symptoms, including reducing severity of pain, improving joint function, and preventing further damage. Evidence for aquatic treatment for neck pain also shows water techniques can improve functional capacity and joint mobility, as well as increase relaxation and mood.
Increase Trace Minerals
Trace minerals are essential minerals for the human body. They're crucial to health and development, and many can be found in seawater. These include: Magnesium, manganese, cobalt, sodium, calcium, potassium, boron These minerals are absorbed into the skin through warm seawater baths and the tiny salt particles contained in sea air, strengthening natural defenses.
Muscle fatigue, stiffness, and soreness
Studies on thalasso&spa treatments in patients with fibromyalgia found that regular treatments lead to decreased muscle pain and fatigue. They also had positive effects on  overall health and physical functioning. A 2008 study on patients with fibromyalgia found that aerobic exercises in seawater improvedmuscle pain and overall health. Furthermore, the heat of the water influenced muscle tone  and decreased pain intensity.Another study alsofound deepseawater therapy had a significant effect on decreasing muscle fatigue and improving muscle damage recovery time.Research also shows that  thalassotherapy can improve muscle flexibility and mobility by increasing blood oxygenation.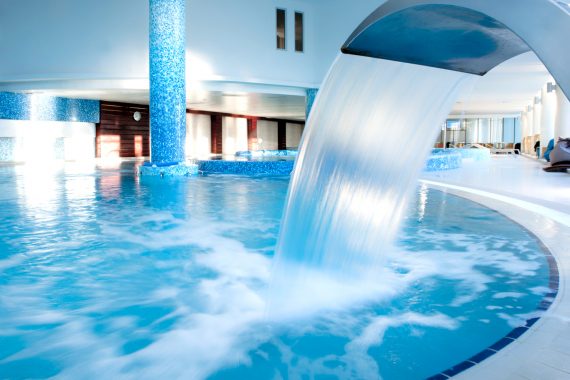 Skin conditions
The use of seawater has also been recognized as a treatment for the symptoms of multiple  conditions, including:
dermatoses, an umbrellatermfor a wide range of skin conditions
psoriasis
eczema
nasopharyngitis, orthecommon cold
conjunctivitis, orpinkeye
Seawater contains many minerals and trace elements necessary for the cellular metabolism.  It can calm skin irritation such as psoriasis and dermatitis as well as improve wound healing.  Seawater has also been shown to help to excrete toxic residue and oxygenate tissues.
Skin moisturizing and firming
"Thalassotherapy includes the use of marine mud and seaweed with multiple benefits derived from its content in minerals," says Medworld.Seaweed can also contain beneficial bioactive compounds, including: Proteins, polysaccharides, fatty acids, polyphenols, pigments, vitamins, sterols According to Medworld these can be used for cosmetic applications such as moisturizing, lightening skin, and preventing signs of aging.Seawater has been shown to moisturize and firm skin, and the salt in seawater can be a natural exfoliant that aids in cellular rejuvenation. The use of seaweed has also been shown to reduce the visual appearance of cellulite.
Sleep
Thalassotherapy may also help improve sleep. One study found that 3 days of  thalassotherapy combined with sleep management found both immediate and delayed sleep  benefits, including:
Reduceddaytimesleepiness
Improvedmoodand cognitive function
Lowerlevelsof anger, stress, and depression
Improvedsleepingthrough the night
Positiveeffectson anxiety and sleep disorders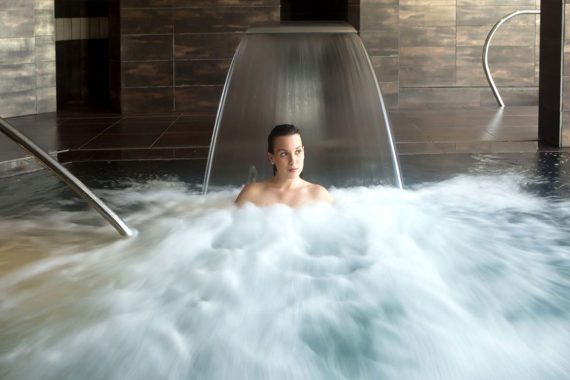 Thalasso & Physiotherapy 
Thalasso & Rehabilition 
Thalasso & Detox
Thalasso & Weight Loss 
Thalasso & Anti-Stress 
Thalasso & Well-Being 
Thalasso & Anti-Age
UNLIMITED ACCESS
Thalasso Pool
Cardio Training Area
Hammam, Sauna, Steam Bath
Indoor Swimming pool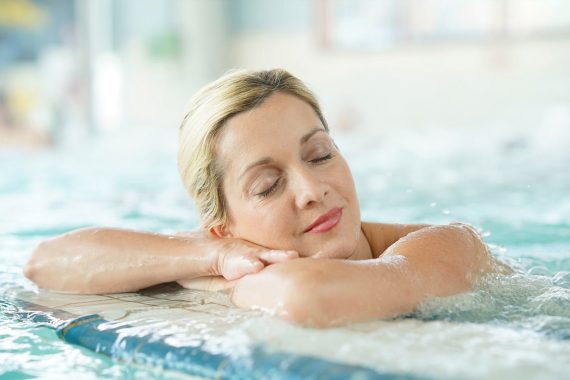 Thalasso & Physiotherapy
Physical Evaluation
Individual Tests and Treatment Plan
1 Consultation with a nutritionist for an analysis of body composition (BMI)
6 Physiotherapy Programme (Therapy,Treatment, Massage)
3 Algae Body Wrap
6 Supervised Thalasso Pool Seance
6 ThalassoTreatment (Mud Body Wrap, Body scrub with Sea Salt Therapy, Hydrotherapy, Andulation, , Ozone therapy, Pressotherapy Lymphatic Drainage)
24/7 Online Assistance
UNLIMITED ACCESS
Thalasso Pool
Cardio Training Area
Hammam, Sauna, Steam Bath
Indoor Swimming pool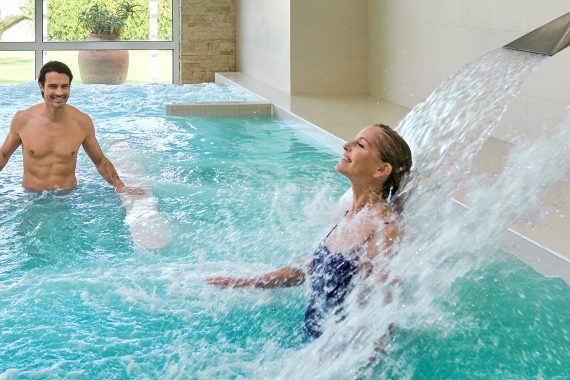 Thalasso & Rehabilition
Physical Evaluation
Individual Tests and Treatment Plan
1 Consultation with a nutritionist for an analysis of body composition (BMI)
6 Rehabilitation & Physiotherapy Programme (Therapy,Treatment, Massage)
6 Accompanied sessions in the Thalasso pool for rehabilitation
6 ThalassoTreatment (Mud Body Wrap, Body scrub with Sea Salt Therapy,        Hydrotherapy, Andulation, , Ozone therapy, Pressotherapy Lymphatic Drainage)
24/7 Online Assistance
UNLIMITED ACCESS
Thalasso Pool
Cardio Training Area
Hammam, Sauna, Steam Bath
Indoor Swimming pool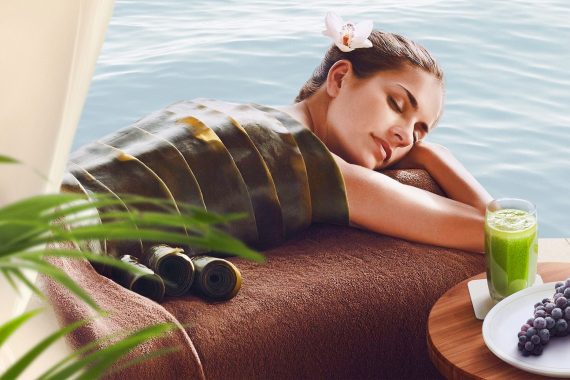 Thalasso & Detox
—Physical Evaluation
—Individual Tests and Treatment Plan
—1 Consultation with a nutritionist for an analysis of body composition (BMI)
—1 Detox Hamam Programme
—6 Detoxifying seaweed wrap sessions
3 Detoxifying Massage Therapy
6 Magnetotherapy
3 Hydrotherapy treatments
6 Ozone therapy sessions
6 Supervised Thalasso Pool Seance
Alkalize Water and Probiotics
Detox Supplement
Natural therapeutic food and drinks, according to the prescription
24/7 Online Assistance
UNLIMITED ACCESS
Thalasso Pool
Cardio Training Area
Hammam, Sauna, Steam Bath
Indoor Swimming pool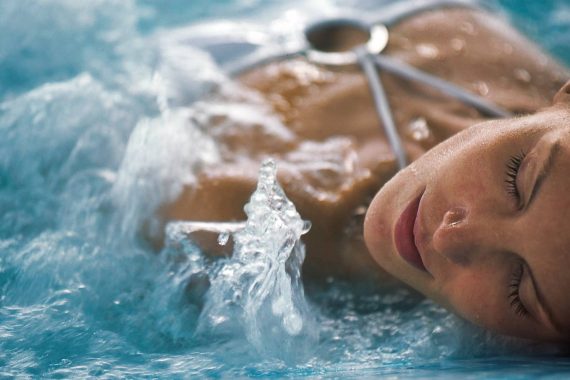 Thalasso & Weight Loss
—Physical Evaluation
—Individual Tests and Treatment Plan
—1 Consultation with a nutritionist for an analysis of body composition (BMI)
—6 Herbal Sliming Wrap
—3 Manuel Lymphatic Massage Therapy
—3 Pressotherapy Lymphatic Drainage
3 sessions of Slimming programme with LPG&Frozen
6 Magnetotherapy
3 Hydrotherapy treatments
6 Ozone therapy sessions
6 supervised Thalasso Pool Seance
Alkalize Water and Probiotics
Weight Loss Supplement
Natural therapeutic food and drinks, according to the prescription
24/7 Online Assistance
UNLIMITED ACCESS
Thalasso Pool
Cardio Training Area
Hammam, Sauna, Steam Bath
Indoor Swimming pool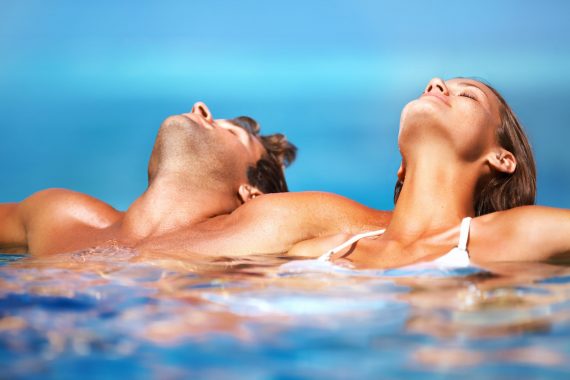 Thalasso & Anti-Stress
—Physical Evaluation
—Individual Tests and Treatment Plan
—1 Consultation with a nutritionist for an analysis of body composition (BMI)
1 Anti-Stress Hamam Programme
3 Anti-Stress Massage Therapy
3 Ayurveda De-stress Therapies
3 Anti-Stress Wrap Therapy
3 sessions of Ozone therapy
6 supervised Thalasso Pool Seance
3 Andulatıon Stress Therapy
3 Hydrotherapy Treatments
24/7 Online Assistance
UNLIMITED ACCESS
Thalasso Pool
Cardio Training Area
Hammam, Sauna, Steam Bath
Indoor Swimming pool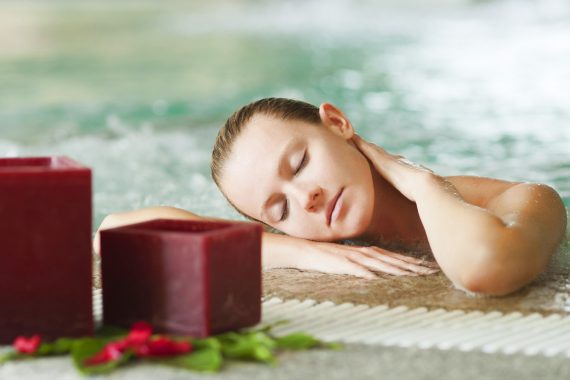 Thalasso & Well-Being
Physical Evaluation
Individual Tests and Treatment Plan
1 Consultation with a nutritionist for an analysis of body composition (BMI)
1 Ottoman  Hamam Programme
6 Spa Treatments (1 Aromatherapy Fullbody Massage, 1 Hot stone Body Massage,1 Relaxing Body Massage, 1 Facial Relaxing Massage, 1 Foot Reflexology,1 Ozone Massage)
2 Seaweed Body Wraps
3 sessions of Ozone Therapy
3 Magnetotherapy
3 Hydrotherapy Treatments
24/7 Online Assistance
UNLIMITED ACCESS
Thalasso Pool
Cardio Training Area
Hammam, Sauna, Steam Bath
Indoor Swimming pool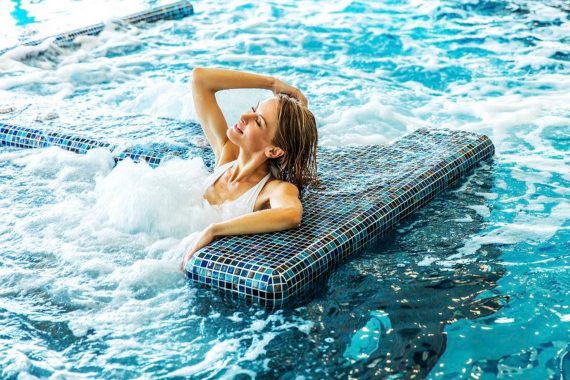 Thalasso & Anti-Age
PhysicalEvaluation
IndividualTestsand Treatment Plan
1 Consultationwitha nutritionist for an analysis of body composition (BMI)
24/7 Online Assistance
6 Spa Face Treatments;
1 Collagen Booster Anti-Ageing and Revitalizing Treatment
1 Eye Radiance Treatment
1 Cosmeceutical Treatment with Hyaluronic Acid HA50X
3 Firming Anti-Ageing Face Treatments
11 Spa Body Treatments;
1 sessions of Anti-Ageing programme with LPG
1 sessions of Anti-Ageing programme with Frozen
3 hydrotherapy treatments
3 Firming Anti-ageing Body Treatments
3 Firming Body Scrub